August, 2018
Welcome to The Best Place to Live in Canada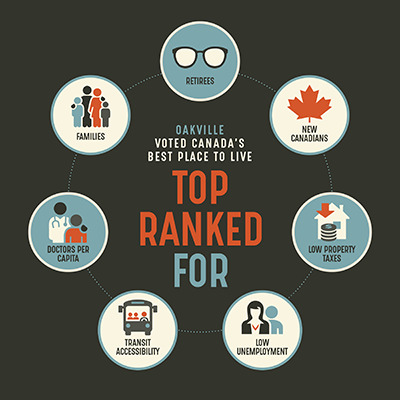 In a recent article by MoneySense, Oakville was named the Best Place to Live in Canada, and we aren't surprised. Oakville has quickly become one of the most popular towns in the GTA, attracting people from all different walks of life who want to be a part of its welcoming and inclusive environment.
This town is known for its stunning trails and parks as well as its picturesque views of Lake Ontario. It's also home to some of the most popular amenities the GTA has to offer, like Oakville Place, Sheridan College, Glen Abbey Golf Club and so much more!
According to MoneySense, not only is Oakville considered the best place to live overall, but one of the best places for new Canadians, retirees, and families. Residents have access to Toronto's strong job market, while still being able to enjoy the benefits of living in a smaller suburb.
According to MoneySense, Canada's top 25 best places to live in 2018 were scored based on the following criteria.
Oakville passed this checklist with flying colours, and its Mayor, Rob Burton attributed this to the town's generous spirit, "There's no denying it's an affluent community, but it's a generous community," he says.
Cortel is proud to choose Oakville to house its up-coming condo development, Oak & Co. This tower will be located at the corner of Trafalgar Road and Dundas Street East, in the heart of Oakville's Uptown Core. Don't miss the opportunity to be a part of this stunning new addition to Oakville - the best place to live in Canada.
To read more about Oakville's prestigious new title, visit https://www.moneysense.ca/spend/real-estate/canadas-best-places-to-live-2018-winner/
To learn more about Oak & Co., visit

http://cortelgroup.com/oakandco/