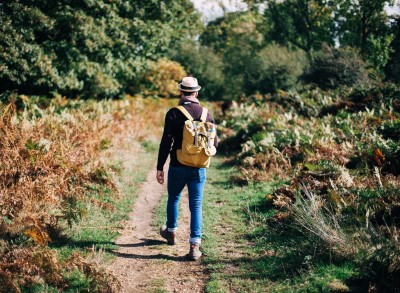 June, 2018
Top Five Trails to Experience in Oakville
Take a walk outside, you deserve it. Oakville is a beautiful town with so much to see from parks and trails to beautiful gardens. Don't be wasting your days locked up inside, go on one of many adventures waiting just for you. Experience the neighbourhood's serene natural atmosphere and trek the trails of some of the most blissful parks hidden within Oakville. The best part about these trails is that they make you feel as though you escaped to an entire outdoor paradise, when it is just minutes away from Oak & Co. You'll hear birds chirping, water running, and before you know it, you'll be feeling relaxed and refreshed. Read about our top picks that have exceptional views and are a must see this summer. #GetOutside #Oakvilletrails

1. Lions Valley Park
Lions Valley Park is one of Oakville's most sought out trail spots that goes alongside the Sixteen Mile Creek River, making it a popular place for a mini peaceful getaway. Its natural landscapes capture the tranquility of the towns core and displays a beautiful setting perfect for friends and family. If you are not interested in walking the trails, then hang around the park section where there are benches set up and shaded areas for you to relax.
2. Taplow Creek Trail

Immerse yourself in a trail encompassing outstanding walking and hiking paths that take you on an adventure through the best of Oakville's outdoors. Cross over bridges and wooden paved staircases that overlook many different creeks, such as, Taplow, Glen Oaks, McCraney and Fourteen Mile Creeks, allowing you to listen to the calming streams and babbling brooks. Every step you take, takes you further into this natural habitat that before you know it, a feeling of peace and tranquility will be upon you. Taplow Creek has a trail system that connects to other parts of Oakville's picturesque parks and nature spots perfect for hiking, bike riding, or even if you want to go on a casual stroll.
3. Munn's Creek Park

Located in the middle of Oakville south of Dundas Road, this park is great fun for the entire family. Spend the day at the newly opened splash pad. Stay cool at this mini waterpark which features updated sprinkler foundations and sitting areas fit for all age groups. Munn's Creek consists of open concept grassland for recreation activities, or you can explore the Shannon Creek trail that further leads into the Sixteen Mile Creek Trail.
4. Puppy Dog Trails

This is a dog walking service that is worth the investment. The Puppy Dog Trail park takes your furry friends on a little adventure of their own in the open trails, and luckily, they are also located in Oakville! The employees pick up your pups from your house and bring them around local trails. It's an excellent way for them to socialize and show them around the neighbourhood. Check out their website for a more detailed description and services offered. http://www.puppydogtrails.com/
5. Iroquois Shoreline Woods Park

Surrounded by beautiful greenery, Iroquois Shoreline Woods Park is a popular walking trail that happily welcomes residences to hike along the Oakville paths accompanied by pets if they are on a leash. Interestingly, this park is one of the largest remaining woodlots below the Niagara Escarpment and has a unique feature that none of the other Oakville trails have, a 3-kilometer looped trail system where you can see fascinating plants and undisturbed wildlife.
CHALLENGE YOURSELF
There is no doubt that the trails in Oakville are stunning, however, if you prefer something a little more challenging, and want to step outside of your comfort zone, explore the majestic waterfalls located in the Hamilton Region. This is the mecca of waterfalls in Southern Ontario and is only 30 minutes away from Oakville. Be sure to check the difficulty rating of all trails before heading out, pack water and snacks, for a safe and exciting hike. As you reach the summit you'll be in awe of the unbelievable views that are right in front of you. There are several waterfalls and picturesque views within a 30-minute radius of Oakville – be sure to check out our top choices:
- Tiffany Falls; Hamilton, ON L8S 4K5
- Albion Falls; 885 Mountain Brow Blvd.
- Sherman Falls; Hamilton, ON L9G 3J3
- Webster Falls; Hamilton, ON L9H 4W2
- Cliffview Falls; Hamilton, ON L9C 5B5
- Borer's Falls; Hamilton, ON L9H 5E2
- Mountainview Waterfall; 985 Scenic Dr, Hamilton, ON L9C 1H7
Discover a whole new side of Oakville by visiting any of these trails, all approximately 5 – 30 minutes away from Oak & CO which is located at the corner of Trafalgar Road and Dundas Street East. Visit our sales centre today! www.oakandco.ca