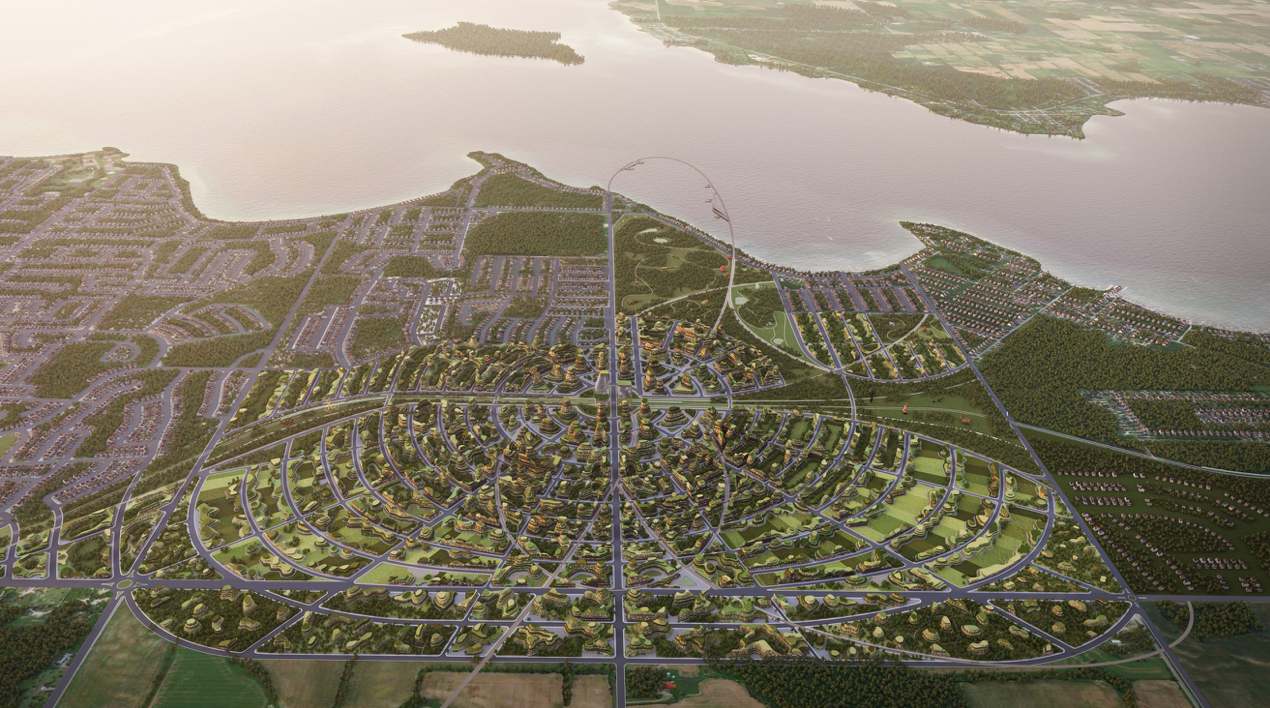 2020 Mid-Year Newsletter
"Never doubt that a small group of thoughtful, committed, citizens can change the world. Indeed, it is the only thing that ever has." - Margaret Mead
"Never doubt that a small group of thoughtful, committed, citizens can change the world.
Indeed, it is the only thing that ever has."
- Margaret Mead
A Letter from Romina Cortellucci
Together, we are united.
This is the approach Cortel has been taking since the COVID-19 pandemic begun. We stayed open to ensure we were able to deliver homes to our valued Cortel homeowners and fulfill the commitments to them. We want to ensure Ontario remains a great place to live.
It has not been business as usual, but we are making a conscious effort to continue operating at the high standards expected from our customers and our team. We have made further adjustments to our customer-facing operations as part of our efforts to help slow the spread of the COVID-19 virus. Currently, our Sales Centre and Design Studio are open by appointment only. These decisions allow us to further protect the health and well-being of our valued employees, customers, and communities. We want to continue to take ALL necessary precautions to keep everyone safe and healthy.
Our Cortel family is always dedicated to delivering the highest quality home and level of customer service.
It has not been easy, and we have all felt the pressure, the emotions, and the impact. But, in all of it there have been moments of humanity. The heroes serving on the frontlines of this fight, and kindness being shown between neighbours.
Our team has shown resilience over the past few months as the world around us has moved and shifted in so many different directions. I am honoured to work alongside some of the most creative, hard-working, and energetic team, who have shown commitment to their jobs, Cortel and the homeowners who they serve.
I hope you have used this as a time to grow, in whatever ways possible. Reconnect with yourself, appreciate the small moments with friends and family, participate in constructive dialoguesand educate yourself and others.
We cannot stay silent about things that matter. We are here for constructive dialogues to ensure every voice in and out of our organization is heard. We want to continue to ensure all our sites and spaces are safe for all people.
As an organization and individuals, we are continuing to educate ourselves and reflect on ways to evoke positive change. We are trying and with every effort we are growing.
Sincerely,
Romina Cortellucci,
Head of Marketing & Sales
At this time, we may be told to stay apart, but we remain united in hope.
In the wake of COVID-19, we are taking the measures necessary to ensure that our community is healthy and safe, while still working to meet our goals and serve you as best as we can. Our sales offices will remain by appointment only (masks and gloves required to enter) until further notice.
We are also available by phone and email. If you have any further questions, please e-mail or call and we will be able to assist you.
EMAIL
SERVICE
(289) 597-2510
CALL
(905) 597-7877
To further support our community, we have also compiled a list of at-home learning resources for kids, as well as a list of tips and tricks on how to maintain productivity when working from home. It is important that we come together at this time, even if physically we must stay apart.
https://cortelgroup.com/news/resources-for-parents-during-social-distancing
Abeja District is Buzzing - Tower 1 is Sold Out
After experiencing HUGE demand, Abeja District Tower 1 is completely sold out. Thank you to everyone for the demand and interest. We are excited to announce Tower 2 is launching soon. This new, Barcelona-inspired hive is located at Jane Street and Rutherford Road. Featuring a mosaic of exciting new residential condos, multi-use and commercial buildings, Abeja District will inject vibrant culture and flair into the neighbourhood surrounding it. Commuting is made easy from Abeja District, with options such as TTC subway transit, VIVA buses, YRT system and Highway 400 nearby. Get outside with parks and trails such as Verde Park and Edgeley Pond & Park just moments away, or get moving at the Vaughan Metropolitan Centre YMCA. There's never a dull moment with Vaughan Mills shopping mall just across the street - one of the best retail destinations in the country with a wide array of dining options.
Abeja is the Spanish word for bee, a name chosen in hopes that it will inspire a hive-like sense of community, bringing unity to a unique group of individuals. Bees can thrive alone, but are far more powerful in groups. We hope to draw on that strength as Abeja District comes together, bringing with it a vibrant energy that Vaughan has never seen before.
Visit abejadistrict.com today to register for floor plans and details for Tower 2, coming soon.
CG Tower - The Centre of Attention
CG Tower is at the centre of it all! The centre of the VMC, centre of EXPO City and at the centre of attention. This soon-to-be Vaughan landmark will be impossible to ignore. Sales are well underway at CG Tower and availability is limited. We're continuing to aim higher at CG Tower, and we want you to be a part of it as we shape Vaughan's skyline.
Let us help you make your mark by emailing us at [email protected] or calling (905) 597-7877
Making Moves on the Nord Side
Welcome to all of the Nord homeowners who have started the move-in process. With occupancy underway, things are moving quickly over on the Nord side. We still have a few units remaining, but availability is very limited. Act fast.
Call (905) 597-7877 or email us at [email protected]
Cortellucci Vaughan Hospital
Coming late 2020 is the highly anticipated grand opening of the Cortellucci Vaughan Hospital - the first hospital to open in York Region in over 30 years, and the first to open in the City of Vaughan. The nation's first smart hospital, the Cortellucci Vaughan Hospital will offer a state-of-the-art emergency department, modern surgical service and fully integrated technology systems and medical devices. During the 2019 Vaughan Mayor's Gala, the Cortellucci family announced the $40-million donation they would be making to help build and fully equip the hospital. Cortel Group is thrilled to see the final product of this incredible project.
YMCA in the VMC
The Vaughan Metropolitan Centre will see plenty of exciting growth this year, including the opening of the Vaughan Metropolitan Centre YMCA. The brand new 77,000 square-foot facility will include a full-sized gymnasium, two pools, a multi-purpose fitness centre and more. The incredible amenities are not where the excitement ends, however. An array of diverse programs including child-care, recreational sports, swimming lessons and group fitness classes will help to foster inclusivity and learning for the residents of Vaughan, helping to ensure everyone grows healthy and happy—right into their retirement years and beyond.
Time to get Creative
Creactive is coming to Vaughan! Cirque du Soleil is opening its first off-resort location of the successful family entertainment centre at Vaughan Mills. Creactive will be a 24,000 square-foot circus playground, offering customers the opportunity to take part in a variety of Cirque du Soleil-inspired activities. From aerial parkour, wire and trampolines to juggling, dance and more, families will be given the chance to try new things and fall in love with the exciting activities at Creactive.
Cortel Group is in Orbit
Cortel Group will be partnering with the Town of Innisfil on the exciting development of The Orbit, which will be a Smart City of up to 150,000 residents, built near 6th Line and 20th Sideroad, south of Alcona. The community will be anchored around the GO Station that will be at its core and will radiate outward to include brand new retail and office space, residential housing and much more. The Orbit will create a fresh new design framework for the Town of Innisfil, reshaping it in the minds of residents as it combines the existing small-town charm and rural appeal with modern, contemporary innovation and infrastructure.
The Town of Innisfil covers approximately the same amount of land as Mississauga, coming in at around 260 square kilometres, but has only a small fraction of the population. The Orbit is an opportunity for Innisfil to become a central hub for young people as we see them moving further from the downtown core and making their homes in the pockets of Southern Ontario that were once deemed "too far away".
To learn more about The Orbit and what it will mean for Innisfil, register for updates https://cortelgroup.com/theorbit/
Construction is Well Underway at Oak&Co.
A limited quantity of suites are still available at Oak&Co. in Oakville. Perfect for first-time buyers and empty nesters alike, this beautiful eight-storey development in Oakville's Uptown Core is nearly sold out. Oakville is quickly gaining popularity as one of the best places for young people to relocate to, with its perfect blend of suburban and urban living. Don't miss your chance to own a stunning condo in one of Oakville's most sought-after developments.
Book your appointment today. Call (905) 597-7877 or email us at [email protected]
Building Cortel from the Ground Up
Cortel Group is a collective of businesses that work together to help build communities in a comprehensive and complete way. The Cortel Group logo is a seed, which represents the dedication and enthusiasm that each company under the Cortel Group umbrella has when it comes to growing and nurturing the communities that they are involved in. Cortel is proud to have such an important role in so many communities and the opportunity to continue to build lifestyle, culture, innovation, technology and more all from the ground up.
Knowledge is Power
The process of buying a home can be overwhelming and confusing. Cortel now presents the Cortel Knowledge Centre, a comprehensive guide to the ins and outs of buying and maintaining your dream home.
Visit cortelgroup.com/knowledge for checklists, guides, tips and tricks to help ease the process of buying a new home.
Next Article