December, 2019
Innisfil's Newest Development "The Orbit" is Out of this World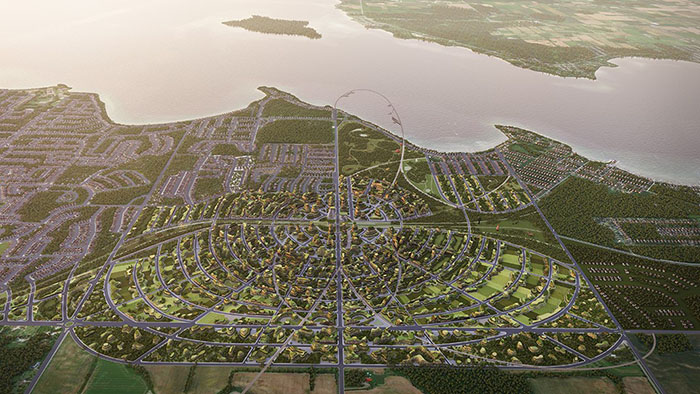 Last week saw the announcement of Innisfil's newest development, The Orbit – a master-planned, cutting-edge community set to create a Smart City of up to 150,000 residents. The Orbit was approved by Council unanimously and will be built near 6th Line and 20th Sideroad, south of Alcona.
As the developers of this project, Cortel Group is excited to bring a vision of sustainability, growth, and a sense of community to the Town of Innisfil. The Orbit will be a perfect medley of rural and urban living by maintaining all the components that make Innisfil desirable and adding modern design to this foundation.
In a time where Ontario is seeing a tremendous incline, particularly in the GTA, Innisfil is poised to be the next major growth area – making it the ideal location for The Orbit. The Town of Innisfil covers approximately 260 square kilometres, which is the roughly the same as the size of Mississauga, but with only a fraction of the population (nearly 37,000). The town's manager of land-use planning, Tim Cane, believes that Innisfil will one day be able to reach the same scale as Mississauga.
The Orbit will be built in phases and will be a mixed-use community featuring residential, commercial, institutional, educational, and community uses. The GO Train station will be the centre of the community and the first target reached, scheduled for completion in 2022. The rail line is like a "steel river" and the required setback from the tracks will be a linear parkland. Something that is normally ignored becomes an integral asset to the entire community.
One of the main objectives of this community is to be green and offer sustainability for the future. The proposed development incorporates high-density housing along with retail, office space, and other forms of residential housing. This creates a place where high-density and low-density can co-exist, offering a better solution for the town, climate and future.
This community is also designed to provide residents with everything they need. The goal is that residents will no longer need to travel to Barrie or Toronto because all the amenities they need will be in one place, including sports and recreational facilities, arts and culture spaces and more. Down the road, The Orbit could also see the addition of a hospital and other services that the community considers desirable.
Cortel Group and Innisfil are creating a legacy and have planted the seeds for the future of the town – and we assure you, the future here looks bright.
Read the following articles to learn more about The Orbit in Innisfil and its positive reception:
https://torontostoreys.com/2019/12/innisfil-development/
https://www.barrietoday.com/local-news/smart-city-proposal-sends-innisfil-council-into-orbit-1890753
https://urbantoronto.ca/news/2019/11/city-future-could-propel-town-innisfil-orbit
https://barrie.ctvnews.ca/innisfil-plans-for-future-growth-with-a-concept-out-of-this-world-1.4712199
https://www.theglobeandmail.com/canada/toronto/article-the-suburb-of-the-future-innisfils-radical-plan-for-a-town-built/
https://www.blogto.com/real-estate-toronto/2019/12/small-town-near-toronto-plans-transform-city-future/
https://www.simcoe.com/news-story/9743270-innisfil-go-station-gets-funding-commitment-council-endorses-development-vision/
https://barrie360.com/innisfil-unveils-orbit-mix-of-rural-and-urban-living/
https://www.thestar.com/news/gta/2019/12/08/can-innisfil-a-rural-town-without-its-own-bus-service-build-a-transit-centred-city-of-the-future.html
https://ca.finance.yahoo.com/news/is-innisfil-ontarios-most-innovative-town-164530503.html
https://www.tvo.org/video/an-urban-future-for-innisfil
https://www.livabl.com/2020/03/orbit-innisfil-ontarios-futuristic-town.html