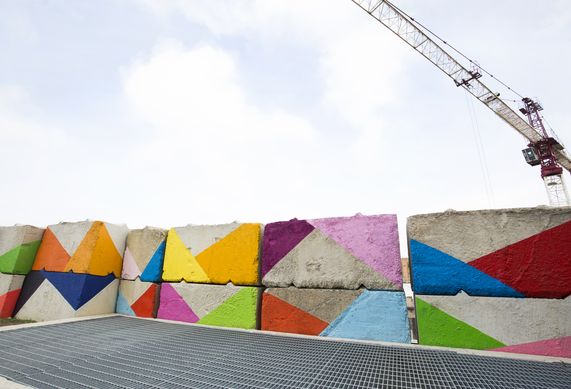 August, 2017
Nord Condos Creates Space for Vaughan Artist
Cortel Group has veered away from what is typical and introduced a completely innovative and creative component to the construction process at Nord Condos, located in the highly-anticipated Vaughan Metropolitan Centre (VMC). To incorporate an urban feel, the hoarding at Nord Condos features a vibrant mural that catches the eye of anyone passing by. As the first mural in the VMC, this artistic addition is an important and exciting contribution to the future of the community.
Cortel proudly supports Vaughan's local talent and is delighted to say this mural was painted by a resident of the city. Luke Ceolin, the artist behind the mural, recently graduated from St. Elizabeth Catholic High School and has been accepted into OCAD University – one of Toronto's prestigious art schools – for the coming semester. His style utilizes simple geometric shapes within large spaces to create beautiful, multi-dimensional pieces.
Rather than hiding the hard work and material that goes into creating a downtown from scratch, Cortel Group has embraced this and brought it to life. Painted directly atop a concrete base, the mural features bright geometric shapes designed in an abstract manner. Presenting a graffiti inspired pattern, the mural embodies distinct imagination and a feeling of vitality within Vaughan's downtown core. The work is a malleable art piece which can be relocated or moved as needed throughout the construction process, reflecting the changes that are currently occurring in Vaughan.
Cortel Group was aiming to bring a youthful, urban attitude to the area by introducing this patterned mural. The artwork is the perfect spot to stop by for a flawless photo or selfie against a stunning backdrop. This engagement encourages the community to celebrate their home and the development of an exciting new metropolitan hub within Vaughan.
Nord Condos is now open and construction has begun! Located at Highway 7 and Highway 400, Nord Condos is close to all the amenities Vaughan has to offer, including restaurants, schools, Vaughan Mills shopping centre, Canada's Wonderland and more. Not to mention, it is just steps away from the upcoming VMC subway station.
These spectacular new condos in Vaughan can still be yours. Come on over to the Nord side. For more information or to buy now, visit our website today.
To receive information and updates regarding our limited available Nord Towns, register at nordtowns.ca.